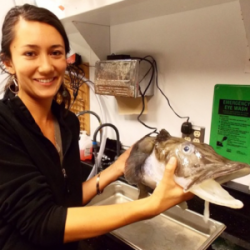 Jamie Yin, M.S.
Cohort 1 alumna
Graduating class of 2019!
I am working with Dr. Frances Wilkerson to study how nutrient dynamics and light affect phytoplankton growth in the Northern San Francisco Estuary (SFE). My thesis research is focused on how phytoplankton in the estuary take up carbon and nitrogen under different light conditions. Phytoplankton abundances in the SFE have been low since the 1980s and are thought to be light limited. This project is advancing our knowledge of coastal ecosystems by addressing a fundamental ecological question that is rarely studied—how access to nutrients for primary producers in pelagic food webs may be limited by light availability.
Prior to graduate school I attended the University of California, Santa Cruz and graduated with a B.S. in Marine Biology in 2015. Since then I have worked as a research assistant in Antarctica studying zooplankton, as a field technician studying black and grizzly bears in the Great Bear Rainforest, and built a database for the population trends of sharks and rays.