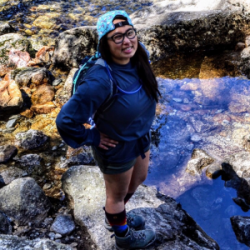 Lindsay Young, M.S.
Cohort 2 alumna
Graduating class of 2021!
I'm a Bay Area native who grew up biking along the shoreline and dragon boat racing in the estuary. I attended UC Santa Cruz for my B.S. in Marine Biology and M.A. in Education, before teaching high school chemistry.
Now that I've returned to field science, I am most interested in how local populations of marine mammals are using San Francisco Bay, and will be working in Dr. Ellen Hines lab to perform a study on our visiting humpback whales.