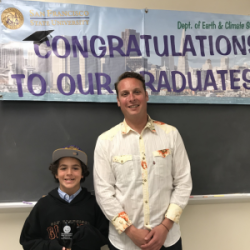 Nicholas Carver, M.S.
Cohort 2 alumnus
Graduating class of 2021!
Nicholas Carver is a new Master of Science candidate in the NSF sponsored RIPTIDES program (Estuary & Ocean Science Center, SFSU), starting in Fall 2018. Nicholas received a Bachelor of Science with an emphasis on Ocean, Weather and Climate in Spring 2018. In the Fall Nicholas will focus his studies on ocean currents off the California Coast, specifically the physical response of currents to changes in air/sea interaction.  
Nicholas is a native of Madera, CA. He enlisted in the United States Coast Guard in 2000 and was afforded the opportunity to visit many areas of the world. Nicholas is an avid surfer, fisherman, and proud father.  Nicholas works in Dr. Piero Mazzini's lab.